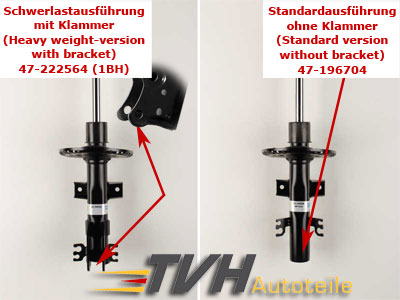 If you want to buy shock absorbers for the front axle (e.g. from Bilstein) for the VW T5 Transporter Multivan, Bus, Kasten... you will always get the message:
Not for trim level 1BH, 2BQ, 2MR or 2MQ. What does this mean in German"?
VW has installed two different types of shock absorbers (see photo below) for the VW T5. Those for standard trolleys and those for heavy-duty trolleys - and these have the designation 1BH, 2BQ, 2MR or 2MQ.
So 1BH, 2BQ, 2MR or 2MQ = equipment variant heavy-duty version.
It is not uncommon for it not to be known which chassis is installed as standard. There is no information about this in the vehicle registration document or letter, the service booklet helps, but is often not to be found.
In order to be able to order the right shock absorbers, you can see the difference in the dampers themselves.