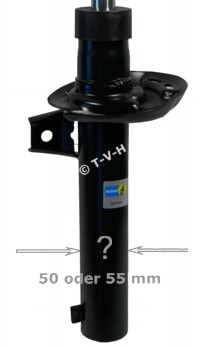 This topic affects the following models from year 2003:
- AUDI A3 8P1, A3 Cabrio, A3 Sportback 8PA
- SEAT Altea 5P* + XL, Leon 1P1, Toledo 5P2
- SKODA Octavia 1Z*
- VW Caddy III, Golf V, Golf VI Cabrio, Jetta III
When buying new front struts, a distinction is made according to the outer diameter.
Incidentally, it is not automatic if you have installed a sports suspension that it is 55 mm. Please always measure in advance before buying.