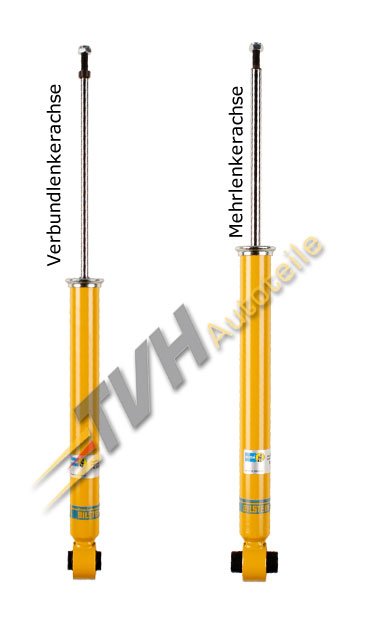 In addition to the indication of the front stanchion Ø 50 or 55 mm, when buying new VW Golf 7 sports or coilover suspensions, shock absorbers or lowering kits, the technical terms "twist link axle" and "multi-link axle" are used again and again.
The information always refers to the rear axle.
In general, it can be said that the models up to 90 kW (122 hp) have a torsion beam axle (also known as a rigid axle in general parlance). Higher engines, including the 4motion models, have the multi-link axle (independent wheel suspension) installed.
There are various manufacturers of these shock absorbers, especially in the sports sector.
I am always asked which brands are a good alternative to the standard shock absorbers.
Well, my recommendation is not entirely objective, because Bilstein is the non-plus-ultra when it comes to shock absorbers. Incidentally, no-name products that advertise e.g. with OEM quality are not recommended, since the name "OEM quality" is not protected and can therefore be used for everything.
You can see the structural difference in the example of the Bilstein sports shock absorber B6 or B8.